Chubby Tales
Posted:bbwclub
I've always had certain desires and feelings but I didn't really get to experiment with these feelings until I went away to College. I'm a tall guy around 6'1. I have a dark brown complexion with dime-sized Hershey Kiss nipples. I weigh about 260 pounds I'm not a huge guy but I definitely could stand to lose a few pounds.
So my first semester away from home I decided to head to the College gym to try and start an exercise program to feel better and lose a couple pounds.
When I went over to the College fitness center I noticed that there were some students there trying out all types of different equipment. I wasn't sure where I needed to begin. I decided to walk over to the student help desk and try to find a personal trainer. That's when I saw Paul for the very first time. Paul is a guy that's about my height, that's the only thing that hour bodies have in common. Paul is a muscular white guy with wavy black hair and piercing blue eyes. I never considered myself gay but I had to admit he was a very attractive man
After a little bit of small talk at the desk Paul volunteered to be my trainer because he wants to be a physical education teacher and he always is looking for people to work with.
Paul and I began working out together that very day. I found out very quickly that Paul believed in a lot of stretching before working out.
As the days went on I know that Paul loved helping me stretch. He always loved laying me on my back putting my legs up in the air and pushing my legs close to my head. It got to the point where my cock would start to twitch at the very idea of Paul helping me stretch
One day Paul had me bent over with my hands touching my ankles I could feel him behind me. And I believe I could feel his throbbing member pressing hard against the crack of my ass
I was in heaven feeling Paul's monster cock brushing up against my ass. I started voluntarily pushing back to feel more. At this point my cock began to throb inside my shorts. I couldn't believe that I was actually letting a man rub his cock on my ass even if it is through shorts.
Just as I was getting into the feeling of having a man rubbing what I Can Only Imagine is a huge dick against me my erotic trance was broken by Paul's wonderful voice.
"Hey James maybe we should do some working out in your room. I want to show you some special stretches and you might not feel comfortable doing it in front of everyone."
All I could do was mumble the word sure because I was so turned on by the very thought of Paul coming to my dorm. The rest of the workout was pretty uneventful except for the end where he slapped me on the ass and said I'll see you in a few days for your special work out.
I could barely sleep that night I was far too excited for what was going to happen to me in just a few days. I have never been with a guy and I wasn't even 100% sure I wasn't misinterpreting what Paul wanted to do.
The next morning I decided to find a spa that cater to crossdressers and drag queens. At the spa I was plucked shaved and waxed until my body was completely hairless shiny and smooth. After going to the spa I headed to a lingerie store that had a section for full-figured women. I bought a very nice red teddy. When I got back to my dorm room I immediately tried it on. I couldn't believe how wonderful I looked in it. It made my little man tits look perky and full. When I turned around in my full length mirror I saw a perfectly round huge tight chocolate ass.
An hour or so later I heard a knock at the door. I didn't want to answer the door in my teddy just in case I totally misread Paul and he would think I was some kind of freak. So I put on my robe and would pretend that I was running late if he wasn't into me like that
When I heard a knock on my door my heart jumped into my chest. I hesitated for a minute or two before I heard another knock at the door. I slowly grabbed for the door and turned the knob.
I will never forget the look on Paul's face when he saw me in my robe. Paul had a huge smile on his face all he could say was "God i want you."
I was thrilled to know that I hadn't misread any of his signals.
I pulled him inside my dorm room and wrap my arms around him. Paul proceeded to press is full lips up against mine it was an unbelievable passionate kiss. Our tongues began to swirl in each other's mouths. As we kissed I could feel the knot in my robe loosening.
As my robe fell to the floor Paul got a full View of my tight sexy red teddy. Paul reached out and began to squeeze and fondle my soft chocolate breasts through my teddy. Then Paul slowly slid the straps of my teddy down my shoulders exposing my chocolate breast.
Paul loses control and goes right after my Hershey Kiss nipples I can't do anything about it feels incredible to have him sucking on my nipples biting them and squeezing them with all his strength my cock starts throbbing as he nipples away. I barely can take his assault on my big juicy titties when he pulls his mouth away from my breast and says to me I'm going to give you what you've been waiting for.
Paul pushed me down onto the bed and starts to pull down his sweatpants. I couldn't believe what actually sprang out of his pants. It was bigger than I had ever thought imaginable. His monster cock had to be at least 10 and a half inches. I had never sucked a cock before, but today was going to be my first time. I reached for the massive tool and shoved it into my mouth. I could barely fit 5 inches in my mouth but I wanted more. I wanted to swallow it all I wanted was to feel the monster down my throat. As my mouth filled with more and more saliva I noticed that I could take more and more of the big throbbing cock down my throat. Paul started to moan I could hear him mumbling suck it suck my fucking cock you bitch. Make me feel good oh God make it feel good make me cum.. Paul saying these things to me just made me want it even more it made me want to please him. I started to play with his huge hairless balls as I tried to fit more and more of the beautiful throbbing cock down my throat
Just as I start getting a rhythm and swallowing over half of Paul's big rod he pulled it out of my mouth. I was incredibly disappointed I had no idea why Paul would want me to stop. But I quickly found out exactly what he had in mind.
Paul laid me back on the bed. Even reached into his pants pocket and pulled out what appeared to be a tube of lubricant. He slathered some all over his penis and then proceeded to slide 2 fingers right into my ass I lay on my back I couldn't believe the sensation it was so erotic. Paul then Lean Forward and whispered in my ear this is going to hurt for a second but only for a second baby I promise.
All I can do is grit my teeth and shake my head yes. Slowly I could feel Paul's rock traveling right into my tight little asshole. I was experiencing something like I had never felt before. It was uncomfortable at first but only at first. Inch by inch Paul's thick cock made its way into my ass.
Oh God Paul yes yes put that fucking dick in my ass fuck me make me your little fuckboy. I want to feel every inch of that fucking cock deep into my ass. Paul started slamming his cock in my ass hard.. oh God your ass is so tight I can't imagine anyone having a better ass than yours oh my God you are such a fat little Bottom Boy take this big dick oh God yeah.
My legs were wrapped around Paul I realized that he's not wearing a condom and he is all the way inside of me. Paul? Are you going to come inside me? Paul tells me no but he is about to cum. Oh God yes Paul cumwherever you need to. Paul then pulls his large throbbing cock from my ass I see him move his cock right up to my man tits he moans loudly and shoots warm sticky cream all over my chest and face.
Paul then collapses right next to me. We hold each other and kiss Paul tells me in a very soft voice that he is not gay I look at him right in the eyes and say neither am I I just wanted to have some fun.
Please login, or
sign up
to leave a comment!
More porn:
Porn stories - Plump Ebony for Dinner
Fuck me hard - bbw and a nerd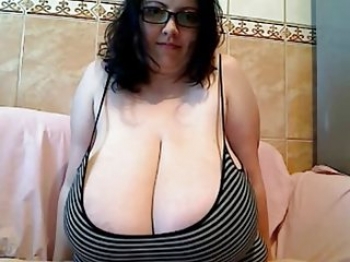 The subway
My sweet mature Aunt
Recently-divorced man embraces his love of BBWs
Trending bbw sex
Big booty babes, big asses
Hot redhead
Oiled tits
Hot 18yo blonde
Busty Britain bbw - Gina
BubbleButt Wife